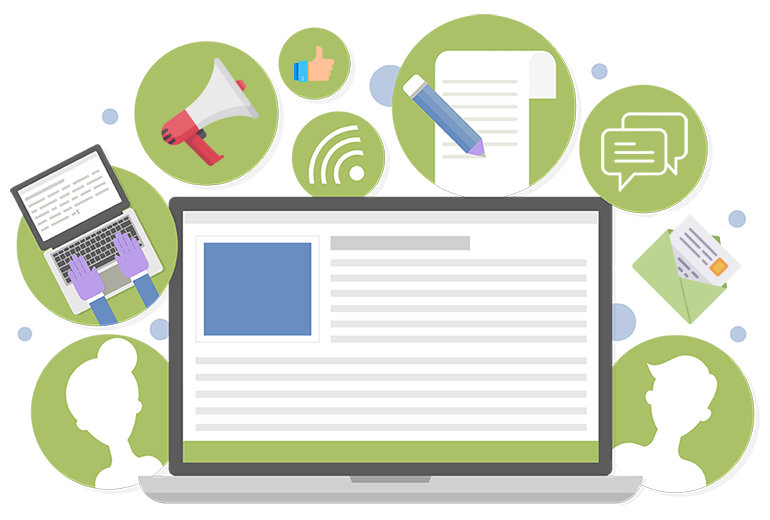 Content Marketing Agency in Australia
Content marketing is a strategic marketing approach emphasised on creating and distributing relevant content to the target audience.
It is a complex process that involves Search Engine Optimisation, market research, competitive analysis of content and clear understanding of target audience.
A successful content strategy focuses on delivering a consistent and clear message to the target audience, and ultimately drives profitable customer action.
The goal of content marketing is to realise its full potential in increasing sales of the business.
There are principally three reasons for which enterprises heavily rely on content marketing:
Increased sales
Cost savings
Reach target audience and earn loyalty towards product(s)/brand
Content Marketing Range
Content marketing is a quintessential part of marketing process and shouldn't be considered as a separate thing.
Quality content is an utmost part of marketing dynamics and creates a loyal visitor base. It also greatly helps to establish your brand in the market.
Content marketing is a part of all types of marketing such as:
Content, both written and images are an integral part of social media marketing. To target a particular audience, you need to create specialized content for your target audience.
Content is an age-old part of search engine optimization. With advent of new search engine technologies, well-written content is an essential component of SEO.
A successful business depends on good public relation and for an effective public relation campaign; you need to have a valuable content.
Good quality content is also required to drive inbound traffic and lead.
What We Offer
SEO Service Agency is one-stop-solution for all content marketing services in Australia and worldwide.
We offer a comprehensive package including strategic formulation to content writing, promotion, content analysis and others to help our clients promote their business both in online and offline marketing.
At our organization, we help our clients leverage the power of content with our advanced and professional content marketing services.
Our content marketing strategies focus on target audience, to deliver the right message at the right time to create a successful marketing campaign.
Strategic Development
Our focus is to define a right plan of action for which our strategic development process includes:
Understanding client business and vision and focus on target audience
Defining the clear goals for content program
Email Marketing
We formulate a comprehensive email marketing plan for our clients. We develop initial theme of emails, feature approved content and prepare monthly reports.
Social Media Content
Content specific to target audience is an integral part of social media promotions. We help our clients to manage social media marketing with our effective content. We work extensively on specific social media platforms such as Facebook, Instagram, Twitter and Linkedin.
Extensive Research Work
The main criterion of effective content marketing is to understand what the target audience wants. What social platforms they are on? We also research on the audience behavior and do complete competitor analysis and how industry media are catering to these behaviors.
Ideation
From our researches, we find the key elements and identify the content needed to reach the target audience.
Content Strategy
Our content strategy focuses on promotional elements, supplementary content and influencer marketing materials – tied together with promotional calendar to keep the team focused.